4Cs Blog: Happy Employees = Happy Customers
---
Top Reasons You Have a Turnover Headache
High turnover is a symptom your employees are struggling. Exactly what they are struggling with may be apparent or it may be a complete mystery. Either way, in order to even begin to address turnover, you have to know what is causing employees to leave.

The top 7 reasons that are most commonly identified in our employee research are:

1. Employees have more work than they can manage. They are simply worked to the bone.

2. Some employees are treated better than others. When one employee is allowed to work from home one day a week and no one else is, resentment is inevitable.

3. Employees don't usually work just for the money, but they do care they are being paid fairly. If they aren't, they will leave if a better opportunity comes along.

4. Work culture is strongly correlated with employee engagement and happiness, and research has proven over and over that employees don't work well in toxic cultures.

5. A bad boss drives good people away. People today expect to have a great manager.
Read full post
---
Improve Career Opportunities to Increase Employee Engagement and Reduce Turnover.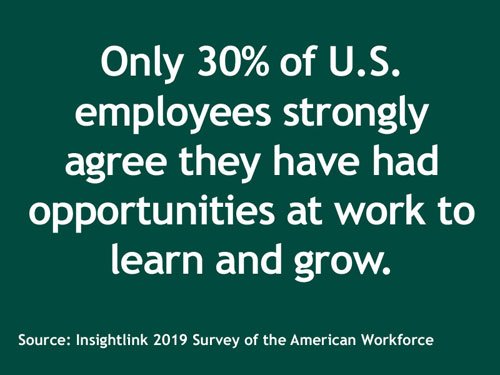 Each year we conduct our Survey of the American Workforce. It's what we use as the basis for our extensive normative database and how we benchmark scores in our 4Cs Employee Survey. A recent article posted by John Hall on LinkedIN highlights one of the key findings in the survey results having to do with employee loyalty and why employees really leave jobs.
It's a myth (and one that never seems to die) that employees leave their jobs primarly because of bad managers. Just try a Google search on "employees don't leave jobs, they leave managers" and you'll find dozens of articles and blog posts touting this tired old cliche. The problem is that the claim is simply not supported by the data. It's just a lazy way to explain away high turnover rates without actually trying to solve the problem. That's not to say that "some" people don't leave jobs because of bad management or horrible bosses. Everyone has heard stories about them and most of us have probably had at least one experience in our careers working for a monster. But "horrible boss" anecdotes are not reliable data and the truth is, while people leave jobs for many reasons, bad management ranks pretty low on the list.
Read full post
---
The Importance of Employee Surveys During Mergers and Acquisitions
A study by KPMG indicates that 83% of merger deals don't boost shareholder returns, essentially making them a failure. It's suggested that this is partly due to mismanagement of workplace cultures, something that can be identified and worked on early with insight provided by doing an employee survey. Happiness and engagement levels often decline during a merger or an acquisition as it's a significant change for any business and needs to be handled with care. Employee feedback can be extremely valuable, plus it immediately shows that you care about employees during this transitoryand vulnerable time.

How do mergers and acquisitions affect employees?

An acquisition or merger will usually result in employees needing to do business in a different way, which they can resist, particularly if they don't understand how they fit into the new business or office culture. Employees may lose confidence in the business, particularly when it comes to how secure their job is and what the future holds for the company. One survey of 10,000 U.S workers found that employees who lose confidence in a company following a merger may quit, but if new management teams can clearly communicate a clear vision for the future, they're less likely to leave. Employee surveys during a merger or acquisition can help to identify if these potential problems are apparent in your business, which helps you to resolve them and retain staff that are happy and productive.
Read full post
---
How Employee Surveys Can Predict Your Turnover Rate
Can An Employee Survey Predict Your Turnover?
With the right questions and the right analysis, absolutely yes. Insightlink's Loyalty Matrix reporting can show you.
Knowing how many of your employees are likely to quit in near future (and what is causing their unhapiness with the job) can be an invaluable tool in helping to reduce expensive employee turover.
Using our Loyalty Matrix analysis we can segment your employee population into four distinct groups.
Take a short demo survey here to learn how.
Read full post
---
How to Recognize Work Addiction in the Workplace
The growth of technology combined with the idea that we need to work harder to achieve more is a popular concept in the modern workplace. And, according to a study by Techtalk, 55% of US employees have admitted to checking work emails after 11pm. Research by Harvard Business Review also shows the average CEO works 62.5 hours a week - around 21.3 hours above the global baseline of 41.2 hours.
As technology makes it increasingly easy to push beyond the 9-5, Lucinda Pullinger, Global Head of HR at Instant Offices provides pointers on how US workers can recognize the difference between committed working habits and work addiction.
With smartphones, computers and apps at our fingertips, we're able to maintain a constant connection to our work. In theory, these tools should make our workdays shorter and more efficient, but constant distractions and the inability to disconnect can lead to longer work hours and less to show for it.
Read full post
---
Reducing Turnover Has Never Been More Critical
According to a recent article on Vox.com, the US is experiencing a widespread worker shortage. Here's why.
As you can see from the graphic below, there are now more jobs available in the US that there are unemployed individuals available to fill them. Add that to the skills gap and you have a perfect storm of employee risk for US companies. Keeping your current talent, then, is of critical importance in a highly competetive labor market.
Read full post
---
Employees frustrated with employers over lack of feedback.
Research Flash
In a recent benchmark study, U.S. employees are showing signs of frustration toward employers that could undermine corporations as the job market tightens:
26 percent of employees were not satisfied with the way they were managed;

17 percent felt their employer undervalued them; and

32 percent would likely not spend the rest of their career with their present company.
There is a huge disconnect between what employees believe they are doing right and how they are recognized for their contributions. Fully 72 percent of employees said they believe their company knows they are doing a good job, yet 33 percent do not feel they are given feedback on how their work contributes to the success of the organization.
Another indicator of employee disillusionment is their lack of confidence in the company they work for as a whole. Thirty-five percent of surveyed employees revealed that they would not invest their own money with their present company.
Read full post
---
What Are The Main Drivers Of Job Satisfaction In The U.S.?
AKA What Makes American Workers Happy?
Each year since 2001 we have conducted an annual survey of the American and Canadian workforce. In total, we have collected employee satisfaction data from more than 30,000 workers across many industries. From this very large sample we run a drivers analysis to find out exactly what it is that motivates employees and leads to higher levels of job satisfaction. Here are the results:
Read full post
---
Traditional Employee Surveys are Still the Gold Standard
When it comes to employee surveys, a common question from prospective clients is 'How often should I survey my employees?' It used to be organizations relied on an annual employee survey to collect feedback but in our world today, big data platforms embrace micro-surveys on every topic imaginable including where bet we work. Ever since employee engagement became a buzzword, employee surveys have moved from being an annual event to a sometimes weekly and even daily event.. Do we ever get tired of surveys? You bet we do!
Read full post
---
Yes, Anonymity is VERY Important for Employee Surveys
One of the most common questions we get at Insightlink when talking with prospective clients is: "How do you guarantee anonymity for our employees?". We have a well-defined policy for doing that and we take that responsibility very, very seriously. You might think that every company would take the anonymity of employee surveys just as seriously as we do (and trust us, employees certainly do) but recent experience would suggest otherwise. Our Operations VP just published a LinkedIN article on the topic here. It's well worth a read.
DIY survey tools have opened up a whole new world when it comes to survey technology, but the one thing they cannot do is protect a person's identity the way a 3rd party provider can. If HR and management have the keys to the survey, then they can access every response and know exactly who said what. Your employees are not stupid. They know that. And if they know that, they won't be 100% honest.
Do yourself a favor. A 3rd party provider may cost a bit more than doing it yourself in-house, but the benefits of expertise and the critical requirement of anonymity is well worth the few extra dollars you might pay.
Read full post