4Cs Blog: Happy Employees = Happy Customers
(Showing all posts labeled Culture)
---
Why Connecting With Your Employees Is Good For Business
Improving employee engagement is easy to talk about but challenging to carry out.

Many of our clients here at Insightlink gleaned from their engagement surveys that employees often express a strong desire to feel connected to their work. One way to meet this need, and retain employees, is to give them a voice in how they do their jobs. In other words, asking employees for their suggestions can increase connectedness. "Employee suggestions can have a significant impact on productivity, turnover and overall organizational performance says Robert Gray, President of Insightlink Communications based in Palm Springs CA.. Other experts agree that "People need to be listened to even if their ideas don't work or don't make sense," explains James Campbell Quick, professor of organizational behavior at the University of Texas at Arlington. "By not listening, it makes people psychologically withdraw and you may miss … the million-dollar suggestion." Read full post

---
A Smart Way To Engage Your Employees And Reduce Turnover
Studies on turnover estimate that when an employee leaves a company it can cost the organization between 30 to 250 percent of that person's annual salary due to factors like loss of productivity and other associated replacement costs.

Imagine a high potential employee disclosing her long term goal to her HR Manager to work in strategy. We know of one instance when an HR manager dismissed this goal saying 'everyone wants strategy...strategy is a dream job'. I suppose a young aspiring woman could respond in one of two ways. One, she might feel challenged to achieve her goal despite the odds and the negativism or two, she might start having thoughts about finding a new job where she can make her goal a reality.

If she does resign, this would be considered preventable turnover, meaning the employee is leaving for a reason specifically related to their work experience that could have been avoided!

Perhaps not everyone who wants to work in strategy will have that opportunity; but there are still ways to encourage employees to grow and develop strategic thinking skills that would benefit any organization at all levels and could delay and prevent some employees from leaving. Strategic thinking is a skill worth cultivating in your employees and managers because it teaches them to focus on what is really important. HR analysts Jill Fowler and Jeanette Savage describe strategic thinking as, 'recognizing trends and challenging assumptions while maintaining a global view of situations and an affinity towards embracing change'. Read full post

---
How To Diagnose Your Organizations Cultural Health
Why should workplace social networks be important to HR specialists?

It matters because these networks drive your compant's culture.
Karen Stephenson is an anthropologist who teaches social network theory as part of the MBA program at Erasmus University in the Netherlands. Stephenson has successfully applied her research in cultural anthropology to corporations and discovered a way to map an organizations social capital and identify critical participants within social networks.


Understanding social networks are not social media

Social media like Facebook and Twitter are about collecting and connecting at a superficial level. Social networks are about trust and powerful relationships that happen mainly face to face.


Why are social networks important to HR Specialists?

Stephenson explains that social networks are the formal and informal bonds through which people communicate and get work done-the invisible bonds of trust and the water cooler relationships that happen between employees. These networks are different from the hierarchal structures that define authority; they are not found in organizational charts.
Together, Social networks and hierarchy form a company culture. Read full post

---
There Are No Good Reasons To Waste Your Vacation Days
Hard working Americans seem to have lost their way in recent decades.

It seems we have forgotten that we have a limited time here on earth as we work ourselves to death to pay our bills when we should be spending our time on worthwhile things that make us happy like family, friends, our passions and our hobbies. Many Americans persist in frittering away and wasting vacation days that are earned and deserved however, denying themselves the chance to rest and relax. In fact many are proud of being workaholics, which is commonplace and symptomatic of many employees in our culture today; but the reality is when we do the same thing day in and day out, week after week month after month we become dead inside and we forfeit our quality time for what? More work….

Does it bother us that we are known as the 'No-Vacation Nation'? Not surprisingly the United States is the only developed country in the world without a single legally required paid vacation day or holiday. In stark contrast, figures from CEPR's study "No-Vacation Nation Revisited reveal that every country in the European Union is required, by law, to provide at least 4 weeks of paid vacation every year.

Italians, who get over 35 days of vacation per year might be enjoying life a whole lot more too as they live on average four years longer than Americans. Italians get paid for a 13th month in December (paid twice for working one month) so that they can afford to pay their bills and enjoy a vacation. The message "life is short' seems to be alive and well in the world, just not in the states! Read full post

---
How Work Spouses are Disrupting Morale and Employee Engagement
A work spouse can motivate you to go to work on days when you don't want to.

If coworkers are the unsung heroes of employee retention imagine the impact work spouses could have on reducing turnover. Work spouses are a growing phenomenon in the world of employee research because they tend to be super motivated employees who consequently have a significant impact on job satisfaction and engagement. In understanding your work force it is helpful to know if you employ any of these happy couples and to what extent you are encouraging or discouraging these types of relationships.

Work spouses Psychiatrist Jacqueline Olds defined a work spouse as "a person at work with whom you have a special relationship in which you share confidences, loyalties, experiences, and a degree of honesty and openness."

Friendships and good chemistry can make a big difference in your happiness at work but work spouses take it to a whole new level by driving even deeper feelings of belonging and being connected. Work spouses have the potential to be the most meaningful relationships in employees lives because these partners understand their partners professionally and have insights into each other's personal lives. As a result, work spouses are extremely motivated, they heavily influence each other's morale and ultimately make work a more enjoyable experience. These happy work couples very often raise morale with the people they work with as well.

In many workplaces across the country today, men and women find themselves sharing a close platonic relationship inside the walls of their office that is in every way like a marriage but without the sexual intimacy. Read full post

---
How to Deal With New Hires And Their Meddlesome Helicopter Parents
We all know that organizations with engaged employees are more successful. We also know that every workplace has its drama, issues, problems, awkward moments and funny stories. But this week our hat goes off to the people in HR who have the privilege of handling the people we have affectionately come to know as 'helicopter parents'. In an article written by Dana Wilkie that was published by SHRM last week, Wilkes gives us the inside view on some of the most outrageous stunts pulled by helicopter parents. And, as we consider the possibility of any of these happening in our organizations, we wonder if any of these kinds of experiences would make you say yes or no to the hopeful young person applying for the job. Read full post

---
Fix a Retention Roadblock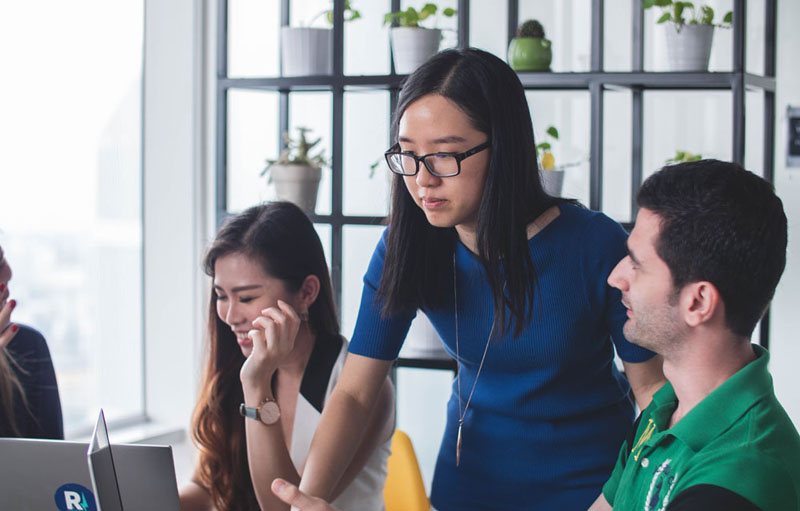 In this new article on Inc.com, Insightlink's founder and President Robert Gray shares advice and suggestions to improve employee engagement based on the leading drivers of job satisfaction as revealed in our Annual Survey of the American Workforce.

Some of the suggestions are:


1. Become an Exceptional Communicator.
2. Reward and recognize.
3. Create a Clear Path for Growth.
4. Offer Autonomy.
5. Mission.

Read full post

---
How To Convey Company Culture On A Jobs Page
With increased opportunities in working from home, an American economy that added nearly 300,000 new jobs in 2015, and an unemployment rate that has steadily been decreasing since 2011, potential employees are becoming increasingly selective in finding the right workforce fit. The values of a business are an important deciding factor, as a 2016 Global Human Capital Trends survey by Deloitte University Press found 82 percent of respondents believe company culture is a potential competitive advantage.
One of the first places candidates are exposed to company culture that may impact their desire to even submit a resumé is on a business job postings page. Here's how to positively convey company culture on a jobs page to get visitors interested and motivated to apply.
Read full post
---
How to Decide the Types of Tech Your Employees Need
The business world has become increasingly technological. The newest generation of workers is especially good at using technology to maintain a work-life balance. Technology also enables your staff to work from anywhere and at any time, increasing overall productivity and employee satisfaction.
However, deciding what type of technology to provide your staff with can be a bit tricky. Too little may hamper your staff's ability to perform and too much may distract them from the job. The following are a few items to consider:
Start With a Good Smartphone
There is more computing power in a current smartphone than was used to put the first man on the moon. This is the kind of muscle that you want your employees to have. A superior smartphone like the Samsung Galaxy S6 Edge should have a lot of processing power, a long battery life and a display large enough to get a variety of work done. To protect both your employees and your company, make sure the phone has security features like Samsung Knox, which separates personal documents from work documents. This lets you access mobile information without needing to break into your employee's personal account.
Read full post
---
Morale is the Secret Ingredient to Increasing Employee Enagagement
Employees Feel it Every Single Day
If your organization suffers low morale, employees are going to feel it every single day. And they are going to express it every day in a variety of ways that ultimately are going to affect your bottom line.
According to sociologist Alexander Leighton, "morale is the capacity of a group of people to pull together persistently and consistently in pursuit of a common purpose."
For your organization to thrive, it's essential to take the time to develop good morale.
Almost by definition low morale will produce unhappy employees. Instead of puling together, low morale will them apart…it eats away at employees over time. Once they start feeling they they are giving more than they are getting, their productivity will fall, they find new jobs and they quit, they start calling in sick more often, and bring others down by speaking openly and negatively. Working for an organization where morale is high feels great, but when it's low it feels bad.
Read full post
About
Insightlink Communications are experts in employee survey design, data collection and analysis. Since 2001 we've helped companies of all sizes measure and improve their employee satisfaction and engagement.



4Cs Blog Home


Recent Posts
---
Why Connecting With Your Employees Is Good For Business
How The 9-Box Grid Reduces Turnover
A Smart Way To Engage Your Employees And Reduce Turnover
Business Growth Strategies Tips To Improve Your Workforce Management
How To Diagnose Your Organizations Cultural Health
Categories
---
Advancement (1)
Commitment (7)
Communication (8)
Compensation (7)
Culture (28)
Employee Surveys (65)
Engagement (63)
HR Practices (20)
Management (21)
Miscellaneous (1)
Mission/Vision/Values (3)
Motivation (26)
Performance Reviews (1)
Recognition (9)
Training (1)
Work/Life Balance (10)
Favorite Links
---
Engaged Employees Blog
HR ToolKit Guide to Employee Surveys
Good info on how to write surveys
Insightlink 360
Makes 360 assessment surveys easy.