4Cs Blog: Happy Employees = Happy Customers
(Showing all posts labeled Culture)
---
HR Response to COVID-19
In late March 2020, Insightlink Communications offered a survey to HR professionals in which they could share their organizations' actions, thoughts, responses and concerns regarding the COVID-19 outbreak. The 109 participants are from a wide variety of industries, ranging in size from just 17 employees up to 90,000 employees, across a wide array of for-profit industries, non-profits/NGOs and governmental organizations.
These HR professionals describe the struggles their organizations are facing as a result of the COVID-19 outbreak, the strategies they are using to protect their employees and their businesses, lessons already learned and concerns for the future.
Read full post
---
Simple Steps To Make An Office Environmentally-Friendly
83% of Americans are looking for ways to lead more sustainable lives, but when it comes to going to work, it can be difficult to do this if employers aren't on the same page. Many employees want to see their employer making efforts to go green, but often can't compromise their paycheck to work somewhere that does. Carrying out employee surveys will help companies see what areas their workers want to see changes and become involved in the process.
Read full post
---
People Management: Decoding the Industry Jargon
Defined as the managing of employee or team relationships in order to ensure the delivery of company or department goals, people management is a vital component of leading a motivated and successful workforce.
Read full post
---
Improving Employee Engagement for Remote Workers
Remote work is not more widespread than ever before thanks to technological advancements and the development of new collaboration tools. As a result, it is now possible to be much more productive when working remotely. According to a recent poll, the number of workers who telecommute up to 5 days a week has been steadily increasing, as has the number of Americans that work remotely which now stands at 43%.
Improved workplace flexibility and accessibility
Read full post
---
Designing an Employee Friendly Workplace
Designing an employee friendly workplace
Read full post
---
How A Solid Succession Plan Is Critical To Retaining Top Talent
Only 54 percent of CEOs and directors are grooming a specific successor to take over the company when they exit, while 39 percent have no suitable internal candidates who could step in immediately. While most business leaders know the importance of continuity, many organizations still aren't ready for succession. But having a clear plan for your company's future isn't just good for continuity, but is also critical to keeping your employees committed and engaged.
Preparation Is Key
Employees come and go. That's just the nature of organizations, so why wait to prepare for the inevitable? Succession planning should be a continuous process so that your company isn't caught off-guard by organizational changes. It's vital to a company's success that there are measures set up to make sure that things keep running smoothly in the event of resignation or retirement of staff, as well as restructuring and expansion.
Read full post
---
Improve Career Opportunities to Increase Employee Engagement and Reduce Turnover.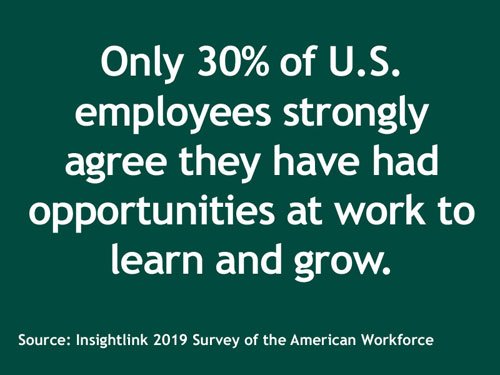 Each year we conduct our Survey of the American Workforce. It's what we use as the basis for our extensive normative database and how we benchmark scores in our 4Cs Employee Survey. A recent article posted by John Hall on LinkedIN highlights one of the key findings in the survey results having to do with employee loyalty and why employees really leave jobs.
It's a myth (and one that never seems to die) that employees leave their jobs primarly because of bad managers. Just try a Google search on "employees don't leave jobs, they leave managers" and you'll find dozens of articles and blog posts touting this tired old cliche. The problem is that the claim is simply not supported by the data. It's just a lazy way to explain away high turnover rates without actually trying to solve the problem. That's not to say that "some" people don't leave jobs because of bad management or horrible bosses. Everyone has heard stories about them and most of us have probably had at least one experience in our careers working for a monster. But "horrible boss" anecdotes are not reliable data and the truth is, while people leave jobs for many reasons, bad management ranks pretty low on the list.
Read full post
---
Employees frustrated with employers over lack of feedback.
Research Flash
In a recent benchmark study, U.S. employees are showing signs of frustration toward employers that could undermine corporations as the job market tightens:
26 percent of employees were not satisfied with the way they were managed;

17 percent felt their employer undervalued them; and

32 percent would likely not spend the rest of their career with their present company.
There is a huge disconnect between what employees believe they are doing right and how they are recognized for their contributions. Fully 72 percent of employees said they believe their company knows they are doing a good job, yet 33 percent do not feel they are given feedback on how their work contributes to the success of the organization.
Another indicator of employee disillusionment is their lack of confidence in the company they work for as a whole. Thirty-five percent of surveyed employees revealed that they would not invest their own money with their present company.
Read full post
---
7 Tips to Create a Workplace That Will Appeal to Millennials
Millennials currently represent the largest and most distinctive generation in our workforce, with expectations and values that are significantly different from past generations. By 2025, these innovative and tech-savvy workers are expected to comprise more than 75% of the entire workforce. These rising numbers, coupled with the knowledge that nearly 60% of millennials remain perpetually open to new job opportunities, signal an immediate need for organizations to deliver a millennial-friendly workplace culture.
A recent Deloitte Millennial Survey revealed that millennials are now more open to the idea of staying with an employer more than five years, if given the right opportunities. With annual churn rates reaching nearly $30.5 billion in the U.S., organizations have a fiscal responsibility to engage their workforce. So, what strategies can you implement to ensure retention and a millennial-friendly workplace?
Read full post
---
Creating an Alluring Company Culture for Your Retail Business
Developing a culture for your company is one of the best things you can do to help your business be successful. Company culture is an important part of your brand identity. Plan your culture well and you set the stage for making advocates out of your employees. It also helps you attract and retain talent overall. Your company culture is part of what makes your company special.
Technology companies like Google are famous for offering really unique perks to their employees, like an in-house arcade, free food, cooking classes, on-site gym, massage therapists and shuttles to work – but they are not alone. Many startups are starting to follow suit with their own selection of perks, like unlimited vacation time. These identifiers help illustrate what the company values and in turn, its culture.
Read full post