4Cs Blog: Happy Employees = Happy Customers
(Showing all posts labeled Culture)
---
Improving Employee Engagement for Remote Workers
Remote work is not more widespread than ever before thanks to technological advancements and the development of new collaboration tools. As a result, it is now possible to be much more productive when working remotely. According to a recent poll, the number of workers who telecommute up to 5 days a week has been steadily increasing, as has the number of Americans that work remotely which now stands at 43%.
Improved workplace flexibility and accessibility
Many workplaces now understand that being flexible with working hours as well as providing the opportunity for their employees to work remotely, increases employee retention and improves workplace accessibility. This increase in remote work however can pose challenges when it comes to keeping employees engaged, as such, this article will look at the different ways in which
employee engagement can be improved
for remote workers.
Read full post
---
Designing an Employee Friendly Workplace
Designing an employee friendly workplace
There is little doubt that
the long-term success and growth of any business
depends to a great extent on employee satisfaction and retention. Making your company an attractive place to work and creating a positive and progressive working environment is important to ensuring job satisfaction, developing talent and inspiring loyalty. Below are some essential tips to help ensure business success as well as employee satisfaction.
Read full post
---
How A Solid Succession Plan Is Critical To Retaining Top Talent
Only 54 percent of CEOs and directors are grooming a specific successor to take over the company when they exit, while 39 percent have no suitable internal candidates who could step in immediately. While most business leaders know the importance of continuity, many organizations still aren't ready for succession. But having a clear plan for your company's future isn't just good for continuity, but is also critical to keeping your employees committed and engaged.
Preparation Is Key
Employees come and go. That's just the nature of organizations, so why wait to prepare for the inevitable? Succession planning should be a continuous process so that your company isn't caught off-guard by organizational changes. It's vital to a company's success that there are measures set up to make sure that things keep running smoothly in the event of resignation or retirement of staff, as well as restructuring and expansion.
Read full post
---
Improve Career Opportunities to Increase Employee Engagement and Reduce Turnover.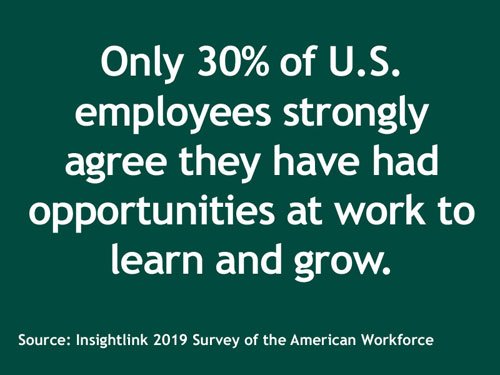 Each year we conduct our Survey of the American Workforce. It's what we use as the basis for our extensive normative database and how we benchmark scores in our 4Cs Employee Survey. A recent article posted by John Hall on LinkedIN highlights one of the key findings in the survey results having to do with employee loyalty and why employees really leave jobs.
It's a myth (and one that never seems to die) that employees leave their jobs primarly because of bad managers. Just try a Google search on "employees don't leave jobs, they leave managers" and you'll find dozens of articles and blog posts touting this tired old cliche. The problem is that the claim is simply not supported by the data. It's just a lazy way to explain away high turnover rates without actually trying to solve the problem. That's not to say that "some" people don't leave jobs because of bad management or horrible bosses. Everyone has heard stories about them and most of us have probably had at least one experience in our careers working for a monster. But "horrible boss" anecdotes are not reliable data and the truth is, while people leave jobs for many reasons, bad management ranks pretty low on the list.
Read full post
---
Employees frustrated with employers over lack of feedback.
Research Flash
In a recent benchmark study, U.S. employees are showing signs of frustration toward employers that could undermine corporations as the job market tightens:
26 percent of employees were not satisfied with the way they were managed;

17 percent felt their employer undervalued them; and

32 percent would likely not spend the rest of their career with their present company.
There is a huge disconnect between what employees believe they are doing right and how they are recognized for their contributions. Fully 72 percent of employees said they believe their company knows they are doing a good job, yet 33 percent do not feel they are given feedback on how their work contributes to the success of the organization.
Another indicator of employee disillusionment is their lack of confidence in the company they work for as a whole. Thirty-five percent of surveyed employees revealed that they would not invest their own money with their present company.
Read full post
---
7 Tips to Create a Workplace That Will Appeal to Millennials
Millennials currently represent the largest and most distinctive generation in our workforce, with expectations and values that are significantly different from past generations. By 2025, these innovative and tech-savvy workers are expected to comprise more than 75% of the entire workforce. These rising numbers, coupled with the knowledge that nearly 60% of millennials remain perpetually open to new job opportunities, signal an immediate need for organizations to deliver a millennial-friendly workplace culture.
A recent Deloitte Millennial Survey revealed that millennials are now more open to the idea of staying with an employer more than five years, if given the right opportunities. With annual churn rates reaching nearly $30.5 billion in the U.S., organizations have a fiscal responsibility to engage their workforce. So, what strategies can you implement to ensure retention and a millennial-friendly workplace?
Read full post
---
Creating an Alluring Company Culture for Your Retail Business
Developing a culture for your company is one of the best things you can do to help your business be successful. Company culture is an important part of your brand identity. Plan your culture well and you set the stage for making advocates out of your employees. It also helps you attract and retain talent overall. Your company culture is part of what makes your company special.
Technology companies like Google are famous for offering really unique perks to their employees, like an in-house arcade, free food, cooking classes, on-site gym, massage therapists and shuttles to work – but they are not alone. Many startups are starting to follow suit with their own selection of perks, like unlimited vacation time. These identifiers help illustrate what the company values and in turn, its culture.
Read full post
---
4 Perks to Look for at Your Next Job
More than ever, workers are looking for perks and benefits of a new workplace beyond just the number on their paycheck. As the ability to change jobs and careers increases, employers are doing more to compete for better workers. The next time you're on the hunt for a new place to work, look for these four things at your new office.
Corporate Culture
It's more than a buzzword in 2018. Corporate culture matters so much to young workers that a survey found most of them would give up $7,600 in annual salary to work in an environment with a better corporate culture. But what does that mean exactly? It depends on who you ask but many workers look for companies with aligned social values such as a commitment to sustainability or contribution. Companies are making it known what they stand for and what they can offer to their employees as a result, so finding the right place to work under this category is easier now than ever.
Read full post
---
How to Preserve a Positive Company Culture as You Scale Your Business
Having a strong and appropriate company culture can give you a big competitive advantage. It helps improve efficiency, and it makes it easier to recruit the right people to make your company grow.
But culture is tricky. It develops on its own, yet with guidance, it can be steered in one direction or another.
As your company expands, the culture you have will change. But this change does not have to be negative. If you can harness the transformation, you can not only preserve your company culture, but you can nurture it to become a real competitive edge.

Here are some things to consider to help you maintain a positive company culture as you scale up:
Read full post
---
The 5 Best Cities For Employee Retreats
Employee retreats can be really useful in building rapport and strengthening workplace relationships. The best locations should have a combination of excellent business facilities, working spaces, and a good choice of activities and sights to see. We've taken a look at the five best cities where you can take your employees on a rewarding corporate retreat:
Las Vegas
Las Vegas is a city where business and pleasure go hand in hand. Not only is it known as the entertainment capital of the world, but it is also home to three of the largest convention centres in America, including the massive Las Vegas Convention Center, which has a staggering 3.2 million square feet of space. Another great place to convene is at MEET Las Vegas, a unique high-tech three-storey complex that offers businesses the chance to hold meetings, training events or to socialise and network. If you want to kill two birds with one stone, then you can arrange your meetings at a venue like the T-Mobile Arena, which offers luxury suites and private rooms overlooking major sporting events and musical acts on the arena bowl. Once you and your team have concluded all serious matters, you can take them down to the famous strip, or you can get tickets to one of the famous casino residency acts that are regularly hosted in Sin City venues.
Read full post