4Cs Blog: Happy Employees = Happy Customers
(Showing all posts labeled Engagement)
---
Ensure the Best Working Conditions to Increase Productivity
Your work environment will directly impact your mood, your mental health, and ultimately your performance as well. If employees were to work in a dull, dreary roach and rat-infested and filthy office setting, full of hostile bosses and unfriendly workers, it will adversely affect their productivity. Moreover, they would not even have the confidence or for that matter the job satisfaction to try and speak up about their grievances. This is why creating a highly positive work environment is critical to your company's overall success. Let us check and see what it is that can make workers more productive:
Read full post
---
5 Budget-Friendly Ways To Increase Employee Engagement
How many of your employees are really engaged in their work? Not as many as you might think, according to recent surveys which suggest that about two thirds of Americans aren't engaged by their work. The cost of this to businesses all over the country is substantial, as productivity crashes and sales are lost, so engaging your staff is of paramount importance.
Fortunately, these changes don't have to break the bank. These five tips are the best budget friendly ways to increase employer engagement - you'll see your productivity and your profit boosted without spending a dime.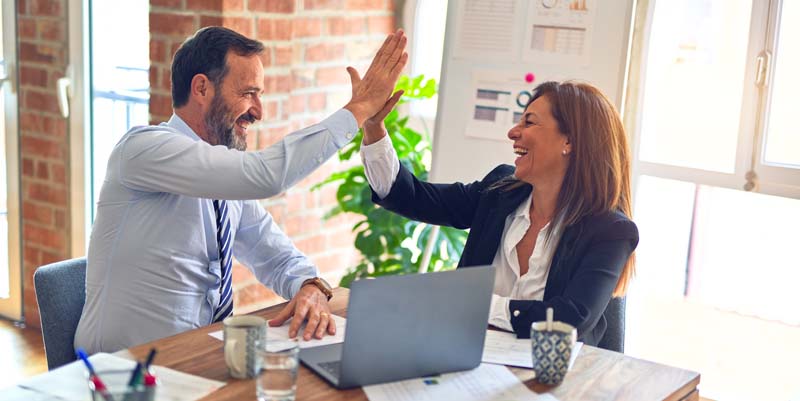 Read full post
---
Now Is Actually The Perfect Time To Measure Employee Engagement
If we were to tell you that the COVID-19 pandemic is an ideal time to measure your organization's level of employee engagement, you might think we were absolutely bonkers. But some of you out there (that is, the astute ones) will undoubtedly realize this is actually a smart thing to do.
Why? Because managers at high-performing organizations know that employee surveys are not simply yearly "beauty contests" or check-the-box exercises meant to cover up underlying organizational problems with one-size-fits-all engagement scores. The real value in employee surveys is to uncover the truth about your employees' experience in multiple areas in order to fix the things that confuse, bother or hurt them and do more of the things that help them.

If you fail to take the opportunity to gauge employee engagement during difficult times, you throw away the chance to get their real unvarnished opinions. If instead, you try to schedule your survey at a time when employees might be less stressed and happier, you are literally sabotaging your ability to get to the truth and to really understand what is driving your employees.
Read full post
---
Are Your Employees Really Engaged?
Employee engagement is the key to the success of any company long-term.
Do your employees care about the work they do and your customers, or are they simply coming to work day after day, week after week, year after year and producing the minimal effort needed to guarantee that they will continue to receive a paycheck every two weeks?
Your company is only as valuable as your unhappiest employee on their worst day.
Think about it!
Read full post
---
Before You Can Retain Employees, They Must Be Engaged!
Companies are spending a fortune today recruiting and hiring the right employees. The problem is, unless you engage them, you will never retain them.
Inc Magazine
says that seventy percent of employees today are disengaged and
Forbes
says that fifty percent of employees are either actively or passively looking for alternative employment. This equates to
half a billion dollars lost
in productivity each year in the United States alone.
Every employee you lose is costing you $100,000 or more to replace
Businesses today assume that people employees leaving is just a Millennial mentality issue, but this could not be farther from the truth. People leave because they do not feel listened to, understood or valued. They do not understand the mission, vision or values of the company, nor do they understand how their individual efforts matter.
Three factors affect this more than any other.
Onboarding, Ongoing Communication, and Leadership.
Read full post
---
How Your Office Space Can Aid Employee Motivation and Engagement
As the place where employees spend most of their working hours, office space has a fundamental role in boosting motivation and engagement. Therefore, it's essential that your workspace is designed and optimized with efficiency and productivity at its core.
That's why today, we're offering our top tips on planning work environments to ensure employees stay focused. From team meetings and project management to workspace layout, with this guide you'll be on your way to cultivating a productive and motivated workforce.
Read full post
---
Reducing Turnover Has Never Been More Critical
According to a recent article on Vox.com, the US is experiencing a widespread worker shortage. Here's why.
As you can see from the graphic below, there are now more jobs available in the US that there are unemployed individuals available to fill them. Add that to the skills gap and you have a perfect storm of employee risk for US companies. Keeping your current talent, then, is of critical importance in a highly competetive labor market.
Read full post
---
How Technology in the Workplace can Improve Employee Happiness
Most savvy companies know that increasing employee satisfaction can lead to decreased levels of employee turnover, which costs companies $30.5 billion annually. While there are many ways to go about ensuring that your employees are happy - and continue to be happy - one of the most effective ways to engage them at work is to play to their interests. And, with more than half of the workforce set to be made up of Millennials and younger-aged employees by 2020, the way to win their hearts and play to their interests lies in providing them with the right technology.

Giving Them The Tools Needed For Success
Read full post
---
Modernize Your Workplace With These 7 Ways to Create a Smart Office
A productive modern workplace takes advantage of smart technologies to make workers' jobs easier and more satisfying. A smart office also utilizes technology to automate daily routines and everyday tasks, so work flows smoothly and employees have more time for creative, constructive thinking. Whether you are setting up your workspace in a new office or have an existing business that's looking to update to more modern times, consider the following ways to create the perfect smart office.

Choose Ergonomic Furniture

Today's health-conscious workers are fully aware of the dangers of sitting at a desk all day, so consider bringing in convertible desks that go back and forth between standing and sitting, as well as chairs that accommodate different postures and tasks. Studies have shown that standing desks can improve mood and energy levels, reduce back pain, boost productivity and reduce absenteeism, and may even lower workers' risk of weight gain. And without the distractions of discomfort and pain, employees can connect more fully with their co-workers and the tasks at hand, creating greater engagement and satisfaction on the job.
Read full post
---
Employee Engagement: The Challenge That Will Not Go Away
What does employee engagement look like at your organization? And more importantly, what is the primary reason to invest in it?
Research shows that it is worth investing in because employee engagement levels are interwoven with business outcomes. Simply put, the most important reason is because it relates directly to your employee's willingness and ability to help you succeed.
As for what it looks like at your organization, that is a big question and difficult to answer because you can't ask an employee if they are engaged. What does that question even mean exactly- are you engaged? Being engaged is a combination of several different attributes, that sweet spot where employees love where they work, what they do and are proud to work for you and feel they are getting something back from you that makes it all worthwhile. Engaged employees are your best employees, productive and willing to go above and beyond. If you have lots of them, you are lucky because that is what most of us are shooting for but have difficulty obtaining. We know it is important, yet the truth is most of us really have no idea what employees think or want. So, if turnover or morale is a problem for you, it might be time to get to the bottom about what is going on.
To even begin to understand the employee engagement challenge and where you stand with your employees, you need data. This is not a time to guess what is going on, instead you need to ask everyone what they are experiencing about how they feel and what they think and the very best way is the proven way, with an employee survey.
Read full post