4Cs Blog: Happy Employees = Happy Customers
(Showing all posts labeled Training)
---
Digital Skills That Will Make You More Employable in 2021
Even though most people aren't fans of spending their entire lives sitting behind a desk and using a computer to make a living, this is probably the best way to do so in the 21st century. It doesn't matter what you do and which industry you're in, being tech-savvy is something you can't put a price on. However, not all digital skills are the same, and not all of them are equally useful in this day and age, which is why finding those that will mean the most to you is such an important task. In case this is something you'd like to do as well, here are a few digital skills you'll certainly need if you wish to start earning serious money ASAP.
Read full post
---
4 Tips To Write Learning Objectives For Employee Training
Employee training is a training program that focuses on providing the necessary knowledge, skills, and direction for better employee performance. Employee training is a major part of corporations. Apart from the initial training, an employee has to go through to enter a company, several types of training are focused on different roles and have different goals. Below is a list of the different types of training corporations conduct to improve employee skills and performance quality!
Read full post
---
Why Employees Need Training on How to Work Remotely
Remote work has become extremely popular during our current times, mostly due to its necessity. As companies had to convert to remote, they were faced with an unprecedented challenge to manage their employees from a distance. Current and new employees are constantly faced with challenges working remotely, regardless of the potential benefits.
Rising costs and unexpected job losses have made home life challenging. Employees want to work effectively and keep their jobs in an increasingly competitive and challenging job market. Coronavirus has made most Americans lose income or their jobs entirely, causing many people to reconsider their options.
Read full post
---
5 Tips to Inspire Better Employee Productivity in the New Normal
The health crisis is far from over, but the business world is doing its best to go back to some semblance of normalcy, even though it's far from what it was before the pandemic. Knowing that, employers and entrepreneurs are doing their best to overcome the pandemic-caused setbacks at work, whether they're coming back to the office or they're choosing to work from home – or, then again, in a hybrid model to combine remote and office-based collaboration.
No business has been left unaffected by the situation. So, even if you've done business as usual, so to speak, emerging collaboration and engagement trends must be affecting your workplace in many different ways. In the midst of all that stress and chaos, the main concern employers are facing is the need for boosting productivity without causing burnout. To do that in the new normal and
with your remote workforce
, here are a few tips you can use.
Read full post
---
5 Tips to Find a Job in Accounting and Ensure Professional Success
When there's a business, there's a need for an accountant. It's nice to work in a field where you know you're always wanted and needed, and rest assured, professional and experienced accountants will always be in high demand around the world. This creates a sense of security in knowing that you'll always have ample opportunities to choose from no matter the socio-economic and market trends.
That said, it's also important to know that this is a saturated and competitive field, so you need to differentiate yourself and appeal to the modern employers. Some employers will also invest in new accountants and
create a learning path
for you so that you can become a part of the company quickly.
With that in mind, becoming an accountant is not difficult, but becoming a successful and respected accountant is a challenge. Let's take a look at what it takes to find a job in accounting and how you can ensure long-term professional success in this field.
Read full post
---
Top Training Tips that Translate to Business Success
It is said that If you keep doing the same thing, you will keep getting the same result. As a business, if there are no changes in the working process, there will be no change in the output of workers. One proven way to improve the quality of work done in a business is by training workers (both old and new). Businesses have to schedule training for their workers to improve their skills which will make them work better and in general, bring more success for the business.
Read full post
---
6 Ways To Improve Employee Development At Your Company
Some people may think that hiring experienced professionals is what makes a company prosper. However, the truth is that the overall success depends not purely on the employees' qualifications but rather on the working environment.
The top organizations are known for the atmosphere of motivation, inspiration, and respect that they create for the employees. And while their work brings them joy, the company experiences a robust rise. So, it is wise to consider investing in your employees' enthusiasm. And here, we will explain how you should get the process running.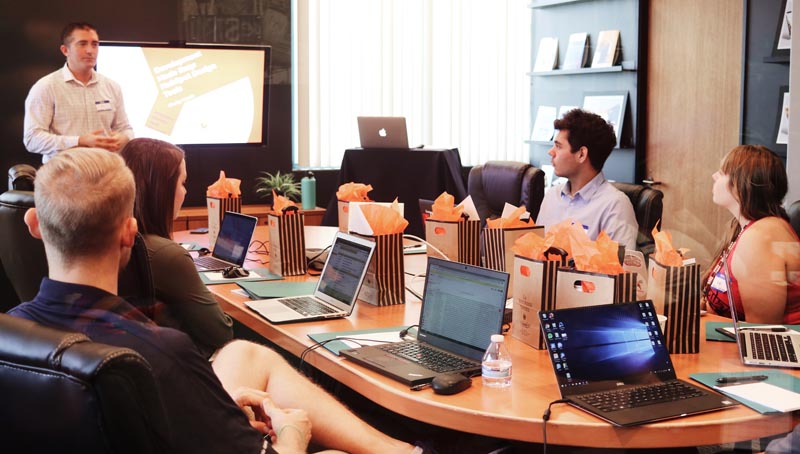 Photo by Campaign Creators on Unsplash
6 Ways To Help Your Employees Improve...
Read full post
---
Do You 'Get' the Importance of Employee Training?
Satisfaction with Training and Development
Using our own normative data, Insightlink has found that only four-in-ten employees are extremely or very satisfied with the amount of ongoing training and development they receive. Organizations that 'get' the importance of training and education stand the greatest chance of building engagement and developing a culture where employees are motivated to succeed, excel and achieve their career goals. Yet this statistic suggests that the majority of organizations aren't 'getting' it and are ignoring this valuable opportunity.
Read full post