4Cs Blog: Happy Employees = Happy Customers
(Showing all posts labeled Work/Life Balance)
---
6 Ways To Cultivate A Low Stress Work Environment
Sure, a good work ethic and strong ambition are keys to success, which drives increased professional and financial opportunities. But our culture also suffers from the glorification of busy. If you're not overwhelmed — merely surviving — at home, and especially at work, then you're not doing it right. Longer hours, late-night emails and weekend check-ins are believed to be badges of honor and equate to status. The associated stress is just par for the course.
High levels of stress impede health and wellness, from sedentary lifestyles to lack of sleep. Second to money, work accounts for 60 percent of stress, according to the Stress in America survey by the American Psychological Association. Not only can stress take a toll on health, but it can negatively affect relationships as well. The APA
reports that 41 percent of adults who are married or living with a partner said they've yelled at their spouse because of work stress and 18 percent said they were short with a co-worker. To help combat the glorification (and suffering) of busyness and stress, employers can make cultivating a low-stress work environment a priority. Emphasize the importance of breaks, work-life balance and open communication to discuss any frustrations.
The following 10 tactics can also help create a productive and efficient environment where employees can relieve and manage stress.
Read full post
---
How Money Can Ruin a Good Time
Learning to value our time over money is a key ingredient in job satisfaction
Benjamin Franklin is to blame. He is the one who coined the phrase 'Time equals Money' and started us all on the never-ending quest to work more to make more. But as so many research projects and real-life awakenings have shown, money can't buy happiness, yet many of us can't get past the idea that if we aren't making money we are wasting our time.
People who work all the time, though, are quite often miserable, which is not just an observation, it is a fact.
In a recent study done at the University of Toronto, researchers found that people who look at their time as money had difficulty enjoying their free or leisure time and are, ' more likely to feel impatient when they're not using it to earn money. And that hurts their ability to derive happiness during leisure activities'. Treating time as money "can actually undermine your well-being," says Sanford DeVoe, one of two researchers at the University of Toronto's Rotman School of Management who carried out the study, which is to be published in the Journal of Experimental Social Psychology.

The key finding of their research showed that people who think of their time as money experience time differently.
Read full post
---
Eight Ways Goofing Off Can Increase Employee Engagement
Your To Do List Can Wait

If you think working around the clock is going to increase your chances of success you couldn't be more wrong. Discretionary effort, giving above and beyond, is not the same thing as working without stopping. Focussing solely on your 'to-do' list gives it the power to run your life and set you on a course for burnout, that could have long lasting negative impact on your quality of life.
In her recent Forbes article titled, Take a Break From Your to Do List, Liz Ryan says, 'Your life will unfold with or without your conscious intervention, but wouldn't it be cool to have a say in it? Wouldn't it feel incredible to get up in the morning and know that you are on your path, doing just what you were sent down here to do?'
Ryan is telling us to take our lives into our own hands and step away from our to-do list long enough to ask ourselves what our life's purpose really is. This doesn't mean we should switch jobs, but that we should be more pro-active about keeping our work in perspective. The old proverb 'All work and no play makes Jack a dull boy' is as much alive today as it was in 1846. It is just not healthy to work all the time and we are far more likely to be satisfied workers who are engaged with our jobs if we enjoy a break from our to-do lists once in a while.
Read full post
---
The 7th C of Employee Engagement
Control

Employees who have a say in setting goals and decision-making processes feel more in control of their jobs leading to higher levels of engagement.
Telecommuting: Not just another employee perk
SHRM research shows that "91% of HR professionals whose companies offer flexible work arrangements, such as teleworking, have seen positive results on employee engagement, job satisfaction and retention".
In a recent New York Times article titled, 'It's Unclearly Defined, but Telecommuting is on the Rise', the typical telecommuter is described as a 49-year-old college graduate — man or woman — who earns about $58,000 a year and belongs to a company with more than 100 employees, according to numbers culled from the Census Bureau's annual American Community Survey. By one estimate, telecommuting has risen 79 percent between 2005 and 2012 and now makes up 2.6 percent of the American work force, or 3.2 million workers, according to statistics from the American Community Survey.
Read full post
---
10 Ways to Reduce Stress at Work
You need to learn to relax.
Whatever you are working on is not as important as you think. Our research shows 7 out of 10 Americans describe their work as stressful. Although some stress can be positive, this may be an indication that many of us are not faring well at work. Stress costs companies money, but even more importantly, stress over time can do physical and mental damage to your body. The truth is, as technology advances, and job security becomes more fragile, managing stress is getting harder and harder.
One of the biggest obstacles to achieving work-life balance is the internet and our mobile devices because they can keep us attached to our work 24/7. Yet it is vitally important to our physical and mental health that we disconnect, and come back the next day feeling refreshed.
Read full post
---
Do Americans Work Too Hard?

If you are like most Americans, you work too hard. Most of us think working crazy hours is what it takes to prove we are passionate, productive team players. Some of us are so driven we choose overtime over vacation to prove how dedicated we really are. We mistakenly believe if we work harder and longer we will be more productive and more successful despite the evidence that the secret to being an effective worker is not working too hard.

Time away from work is a key ingredient to work life balance. Vacations have been proven over and over again to give us a better life perspective. Taking a break renews our spirit, rests our souls and refuels us so that when we return to work we are more energized and motivated to work hard. Our research at Insightlink shows that, while we may be cognizant of these facts, we largely ignore them as less than 7 in 10 of us think we are able to find a good balance between our free time and our career obligations.
Read full post
---
Yahoo Bans Working From Home?
Richard Branson Weighs In
I have to admit I was completely surprised at Yahoo CEO Marissa Mayer's recent announcement that the company will ban teleworking for most of its employees. It seems like a backwards move for a company struggling to maintain its mojo, which I doubt will do anything to improve morale at the company. Mayer has come in for much criticism for the move and today Virgin Group founder Richard Branson weighed in on the decision too with the following tweet: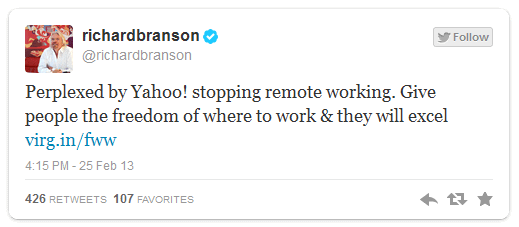 We agree with Branson on this one. Study after study has shown that giving workers more flexibility improves productivity, loyalty and engagement. What do you think?
Read full post
---
Send Your Robot to Work
Wasn't this a hilarious Big Bang Theory episode? You know, the one where Dr. Sheldon Cooper decides to send himself to work via a PC screen attached to a mobile robot. Double Robotics has created this novel device which allows you to turn your iPad into a movable virtual presence device just like Sheldon's making plain old teleconferencing look positively stone age.
According to the Double Robotics Web site: "Double is the simplest, most elegant way to be somewhere else in the world without flying there. The minimalist design and intuitive touchscreen controls allow you to freely move around without inconveniencing others. You can stay at eye level, whether sitting or standing, by adjusting your height remotely, which makes conversations fluid and real. Retractable kickstands will automatically deploy to conserve power when you are not moving around".
Check out the video below to see how it works.

Then check out the Big Bang Theory scene where Lenonard drives Sheldon's "double" to the office. Bazinga. This really could revolutionize the workplace.

Read full post
---
Home-Based Workers Are More Productive
Following up on yesterday's post about the higher enagement levels of home-office based workers, here's an article from Wired Magazine that cites a study published recently by Stanford which among other findings shows a 12% increase in productivity among home-based workers as well as a 50% decrease in attrition levels.
Read full post
---
When the Work-Life Scales Are Unequal
An excellent article in the New York Times this weekend highlights the challenges of work-life balance in an era when more and more companies are embracing flextime as an option for employees.
Read full post